Melina Espiritu-Azocar
Published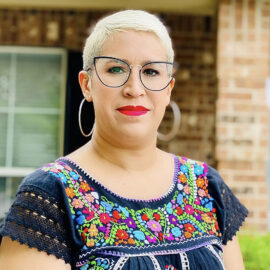 "I fight for equal rights and opportunities for my children, and other children. I am part of this work because my daughter and other children deserve a chance to excel and be seen as more than just their disability qualifying code."
Melina is a 14-year educator, a union organizer, a community activist, a wife, but most importantly a mother. During her career as an educator, she observed how insufficient teacher training prevented educators from effectively supporting students with disabilities. Melina's daughter, Chloe, is currently in eighth grade, and during the fall of 2020 while in seventh grade was homeschooled due to the challenges of remote learning. These challenges included a lack of planning and available resources to meet Chloe's accommodations in the middle of this pandemic.
Due to Chloe's disabilities—which cause high levels of anxiety, along with other learning and behavioral differences that are essentially manifestations of her ASD level 1—she could not face the challenges of virtual instruction as it was presented in Texas. A lack of resources and staff made virtual instruction impossible; in-person instruction was not safe because wearing a mask for long periods of time made Chloe anxious, as well as safety and health concerns stemming from COVID-19. Chloe is now vaccinated and has returned to school. Melina did not see homeschooling as a permanent solution but understood it as the only safe way for Chloe to be educated until she was vaccinated. Proper funding of IDEA could have supported Chloe to meet the challenges of virtual instruction. Staff and resources were and are still needed to ensure that Chloe and peers like her are receiving equitable access to education.
Chloe enjoys reading and drawing and wants to be an artist when she grows up. She is talented, smart, witty, and kind. On multiple occasions, Chloe has had issues accessing and receiving proper services in her IEP or 504 plan. Proper IDEA funding could provide the district access to resources that Melina knows would benefit Chloe. Melina believes that Chloe was only evaluated for an IEP because she made advocating for her daughter a full-time job. Melina feels she needs to be a special education expert just to make sure Chloe obtains the IEP services she needs.
Back to Home Page