Tiffany G.
Published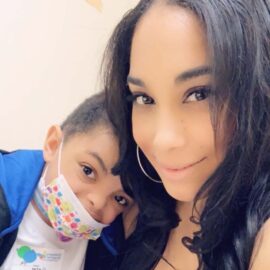 "As a representative for this coalition and campaign, I intend to make my voice heard and share my experiences in hopes to further educate on why this is so important and so very necessary right now. I will not stop IDEA is fully funded and our students are given the equitable funding needed to service their unique and special needs as originally promised."
Tiffany is a Los Angeles mother of three and a hard-working pharmacy technician. Her son Isaiah is an LAUSD student with an IEP for multiple disabilities.
Isaiah was born after 38 weeks of gestation via emergency C-section. He was diagnosed at birth with a chromosome abnormality, an Encephalocele which affects the brain. He was also diagnosed with Dandy-Walker Syndrome, which is a brain malfunction, along with pulmonary hypertension and cerebral palsy. Due to his multiple illnesses early on in his life, Isaiah was hospitalized the majority of his primary school years. Isaiah has had over 37 surgeries. Despite an early diagnosis that Isaiah would be unable to walk, Isaiah is your typical normal 12-year-old who is friendly, energetic, active, busy, ambulatory and who loves video games, YouTube, his brothers and his family.
Isaiah didn't get his real start in school until the fourth grade. A student like Isaiah who missed so much of his early education and with such a lapse in his initial Headstart IEP to grade 4 was very hard to place in school. Nonetheless once Isaiah was placed in an appropriate class setting he was able to thrive significantly. However, due to limited resources, funding, staffing and training, Isaiah has been denied a lot of services he is entitled to receive. Evaluations did not take place and services were all together denied due these inequities.
Since remote learning began, the only service Isaiah receives is occupational therapy. Isaiah's special education classes are not adaptive to his legal deafness and do not include ASL translation or a transcript, and the school does not have a speech pathologist.
Back to Home Page