Parents and educators lobby to fully fund special education
Published |
Updated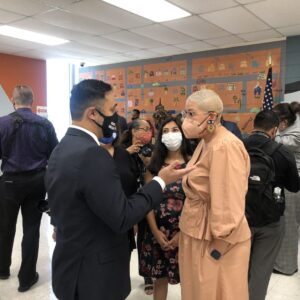 Fulfill the Promise parent leader Melina Espiritu-Azocar (above right) from Texas met US Education Secretary Miguel Cardona and Rep. Joaquin Castro this month and shared our coalition's work to pass the Keep Our PACT Act, which would create a 10-year mandatory glide path to fully fund both Title I and IDEA.
UTLA, as part of the Fulfill the Promise coalition, is working to ensure that the federal government fulfills its 1975 promise to fund the Individuals with Disabilities Education Act at the promised 40%. The coalition of educators, parents, and unions has been fighting to ensure that all students with disabilities receive the needed supports and services vital to their well-being. Parents and educators from Texas, Wisconsin, California, Alaska, and Massachusetts are part of Fulfill the Promise, ready to organize for the rights and funding for students with special needs. Now, the Keep Our PACT Act brings renewed hope to this fight.
The Keep Our Promise to America's Children and Teachers (PACT) Act would put Congress on a path to fully fund both Title I and IDEA. The bilateral bill was introduced by Senator Chris Van Hollen and Representative Susie Lee.
We applaud the following lawmakers who recently signed onto the bill: Representatives Jimmy Gomez, Ted Lieu, Judy Chu, and Lucille Roybal-Allard from California. We also appreciate the work of Senator Alex Padilla, who signed on in July, and Representatives Nannette Barragan and Alan Lowenthal, who signed on in February 2021. Fulfill the Promise coalition members Madtown Mommas from Madison, Wisconsin, will be meeting with Representative Mark Pocan, who signed on to the bill just yesterday.
Back to Home Page