Amy Mizialko
Published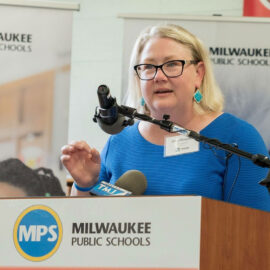 "Over the past 28 years, I have learned that public schools are the only schools with the capacity, commitment and legal obligation to serve every child. Special education programs are the foundation of an equitable and accessible education. I have seen that strong public schools create strong communities. Schools are community institutions as well as centers of learning. While education alone cannot eradicate poverty, schools can help to coordinate the support and services their students and families need to thrive."
Amy Mizialko is a 29-year special education teacher in Milwaukee Public Schools and President of the Milwaukee Teachers' Education Association (MTEA), which represents educators employed by Milwaukee Public Schools (MPS). Amy has a doctorate in urban education and education policy from the University of Wisconsin-Milwaukee.
Amy sees teacher shortages as the most significant barrier to creating strong schools. As of January 2021, MPS had 130 teacher vacancies, including 42 special education teacher positions. This means that schools must rely on stopgap measures such as pulling paraprofessionals, health assistants, central office teachers, and school support teachers to teach or cover classrooms. Staffing shortages also force teachers to absorb students from other classes, further burdening already overcrowded classrooms. Class sizes have extended far beyond the workable limit, with as many as 36 students in some elementary classrooms and as many as 50 students in some middle and high school classes.
As a result, it is extremely difficult for students to receive the necessary individualized or small group support to assist with their learning. Approximately 20 percent of the MPS student population is composed of students diagnosed with special education needs, and in some high schools it is almost 40 percent. Amy has also seen how the challenges facing students in special education are exacerbated by structural factors such as generational poverty. MPS has been impacted by lead poisoning, as thousands of MPS students have been diagnosed with "other health impairment" disability due to a lack of safe water.
During the COVID-19 pandemic, Amy and MTEA have been at the forefront of ensuring students and educators are safe in returning to in-person instruction. Now more than ever, public education funds are needed to ensure the most vulnerable students are protected and uplifted.
Back to Home Page