Meeting with U.S. Secretary of Education Miguel Cardona
Published |
Updated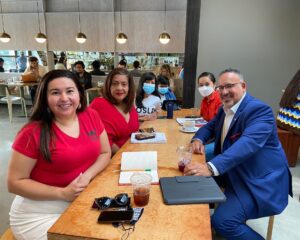 Photo (from left to right): UTLA Elementary Vice President Gloria Martinez, UTLA President Cecily Myart Cruz, parent/petition signer Alicia Baltazar, UTLA Research Director Grace Regullano, and U.S. Secretary of Education Miguel Cardona
UTLA leaders and parents met with U.S. Secretary of Education Miguel Cardona on Wednesday, July 14 to discuss the petition from the Special Education coalition Fulfill the Promise to get the federal government to fully fund IDEA, and the allocation of funds from the American Recovery Act.
In the meeting, UTLA President Cecily Myart Cruz emphasized that the work to win community schools, defend public education, and keep communities safe during the pandemic, is happening at the local level and that UTLA is committed to continue bargaining for the common good because parents and students are part of our struggle.
Cardona expressed concern about racial disparities both before and during the pandemic. He wants to ensure that the right people are making the decisions on how to spend funds from the American Recovery Act and that the money goes to where it is needed. We asked Secretary Cardona to be a leader on fully funding IDEA.
This was a great opportunity to discuss the pressing issues our members and communities face in a post pandemic and post DeVos era. Our battle is for change and material conditions. Our coalition is made up of fighting parents that have advocated for years on behalf of their children. They want change now.
Several meetings are scheduled, both with the Department of Education and with the upcoming head of the Office of Civil Rights, Catherine Lhamon.
Back to Home Page